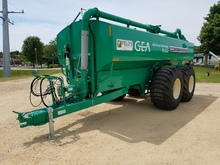 CLICK TO ENLARGE
E-MAIL US ABOUT THIS PRODUCT
GEA HOULE EL48-4C-4400 MANURE TANKER
MAKER: GEA HOULE
MODEL: EL48-4C-4400
YEAR: 2018
CONDITION: NEW
TAG#: 707
SERIAL#: CAI1-1709852
PRICE: PLEASE CALL FOR PRICING INFORMATION.
---
OTHER FEATURES, SPECS OR COMMENTS:
5300 US GALLONS, 1000 RPM IMPELLER & PTO SHAFT. INTANK CIRCULATION KIT TO REDUCE SAND BUILD UP.
DOUBLE CALIPER 4 WHEEL BRAKES, GALAXY TIRES 725/65X26#20 PLY. AUXILLARY GREASE LINES FOR AXLE.
REAR HALOGEN LIGHT KIT AND REAR FILL GAUGE INDICATOR.